Rural Link
Service Design; Social Innovation — 2019


Rural Link is an outcome of an immersive design experience and 10-day multi-disciplinary, place-based workshop, I attended in summer 2019. In collaboration with Holis and CLARA - Center for Rural Future, we investigated scenarios that could revitalise the social fabric of the Odemira region, Portugal. The final proposal - Rural Link - is a platform and a series of physical events, that map local resources and know-how, creating a network that fosters collaboration and environmentally conscious entrepreneurship in the region.

Role — Service Designer
Skills used; Service Design , Systems Thinking, Design Thinking, Community Building, Earth-centered Design







The context
—

Heritage of skilled craftspeople; Growing international community; Small-scale projects and businesses; Openness to collaboration; Diverse nature; Low population density; 'CLARA' - as a new stakeholder in the region

The challenge

—
Due to the dispersed nature of the region and the lack of infrastructure, projects and people tend to be isolated which prevents mutual knowledge exchange and collaboration which in effect stops the development of the region.








The process
—
Design Thinking + Systems Thinking




Key methods

Method 1
—
Mapping out the resources
Method 3
—
Yourney Mapping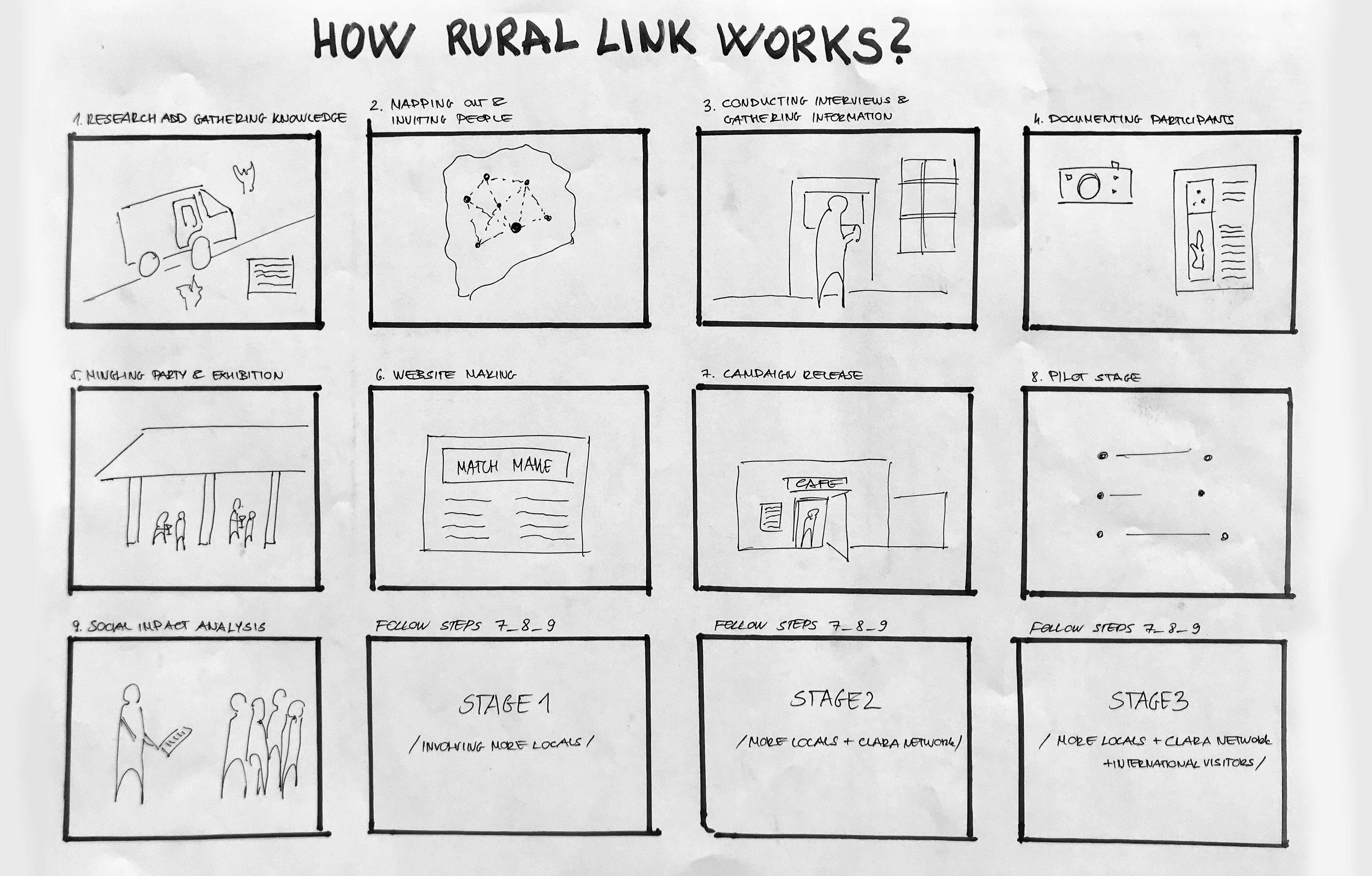 Method 2
—
Semi structured interviews
Method 4
—
Gains & Pains of the service
The solution
—

Rural Link is a platform and a series of physical events, such as exhibitions featuring the local artisans, entrepreneurs, and creatives, curated at 'Clara - Center for Rural Future'. The concept mixes approaches such as collective intelligence, environmentally conscious entrepreneurship, and resource mapping, to create a platform that connects people and projects, revitalizing the social and economic fabric of the region.
The Impact
—
Building on existing resources Clara empowers the community to share knowledge and practice collective intelligence. Clara is leading by example fostering social change and revitalising the Odemira region, establishing itself as the centre of rural future.
Leading by example
—
On the day of the presentation, our team facilitated a game called 'Rural Link Bingo'. Since many local and international guests gathered at Clara that day, we used the opportunity to start building the network and make an impact from day one.